The pri­mary treat­ments for breast can­cer (surgery, radi­a­tion, chemother­apy) con­tinue to lead to sig­nif­i­cant mor­bid­ity for many indi­vid­u­als diag­nosed with this dis­ease.  A num­ber of phys­i­cal impair­ments com­monly result from treat­ments designed to save or pro­long the lives of those affected.  These include impair­ments of upper extrem­ity range of motion and strength, upper extrem­ity and/or breast lym­phedema, pain, fatigue, loss of sen­sa­tion, and reduc­tion in lev­els of phys­i­cal activ­ity and health-related qual­ity of life.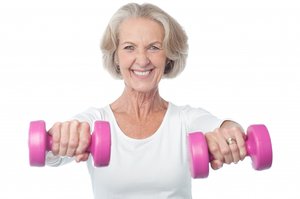 The fol­low­ing 5 tips can help lower risk of impairments:
Gen­tle range of motion exer­cises the first week after surgery.
Active stretch­ing exer­cises 1 week after surgery, or when the drain has been removed.
Active stretch­ing exer­cises con­tin­ued for 6–8 weeks or until full range of motion is achieved in the affected upper extremity.
Pro­gres­sive resis­tance train­ing can begin with light weights (0.5-1kg) within 4–6 weeks after surgery.
Post­op­er­a­tive assess­ments should occur reg­u­larly up to 1 year after surgery.
This infor­ma­tion is in line with the Insti­tute of Med­i­cine report 'Clin­i­cal Prac­tice Guide­lines We Can Trust'.
For fur­ther infor­ma­tion on how you can start a pro­gres­sive resis­tance train­ing pro­gramme early please email Marie at murphyprogramme@gmail.com