To reap all the ben­e­fits car­dio­vas­cu­lar exer­cise (walk­ing, cycling, swim­ming etc.) can pro­vide, you need to be sure that your fit­ness rou­tine is pro­vid­ing you with the right num­ber of METs.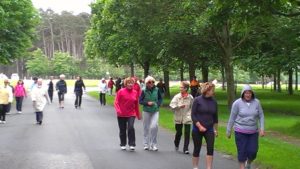 METs are the rate at which our bod­ies use oxy­gen (meta­bolic equiv­a­lents). If you accu­mu­late >15 METs every week, then you get sig­nif­i­cant ben­e­fits in terms of fight­ing can­cer. Stud­ies have shown as lit­tle as 9 MET/hrs of phys­i­cal activ­ity over a seven day period increases sur­vival rate for breast and bowel cancers.
Your fit­ness level has a direct impact on how many METS you expend per minute. So let's say it take you 16 min­utes to walk a mile, your pace is 3.75 miles per hour, which cor­re­sponds to 4.3 METs per hour. If you walk 3 ½ hours over a seven day period you will accu­mu­late 15 METs for your week.
I will be giv­ing exer­cise and nutri­tion talks for patients, fam­i­lies, sur­vivors and health pro­fes­sion­als dur­ing breast can­cer aware­ness month as part of my pro-active edu­ca­tional pro­grammes  One of these talks will take place Thurs­day, 16 Octo­ber 7:30pm–9:00pm at Good Coun­sel G.A.A. Club Davitt Road, Drim­nagh, Dublin 12.  This event is spe­cial for me because it takes place in my own home town.
Hope to see lots of famil­iar faces

FREE EVENT – ALL WELCOME Marie Murphy_Breast Can­cer Aware­ness Month_Save the date