The first pub­lished dietary guide­lines were writ­ten in 1894 by W.O. Atwa­ter.  Atwa­ter ini­ti­ated the sci­en­tific basis for con­nect­ing food com­po­si­tion, dietary intake, and health, and empha­sized the impor­tance of vari­ety, pro­por­tion, and mod­er­a­tion in healthy eat­ing.  It is worth not­ing that at this time spe­cific vit­a­mins and min­er­als had not yet been discovered.
In 1902 Atwa­ter stated:
"Unless care is exer­cised in select­ing food, a diet may result which is one-sided or badly balanced-that is, one in which either pro­tein or fuel ingre­di­ents (car­bo­hy­drate and fat) are pro­vided in excess….The evils of overeat­ing may not be felt at once, but sooner or later they are sure to appear-perhaps in an exces­sive amount of fatty tis­sue, per­haps in gen­eral debil­ity, per­haps in actual disease." 
By the 1950s, nutri­tional guide­lines moved to four food groups known as the "Basic Four" with the focus on get­ting suf­fi­cient nutri­ents.  This con­cept was widely used for the next two decades.  Dur­ing the 1990s, the Food Guide Pyra­mid was released.  The pyra­mid con­veyed key con­cepts regard­ing vari­ety, pro­por­tion­al­ity, and mod­er­a­tion; Atwater's words repeated ten decades later.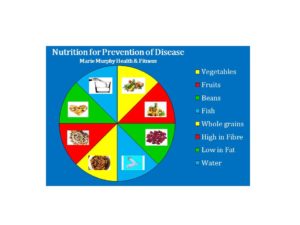 Lets get back to basics.  A diet that is high in veg­eta­bles, fruits, whole grains, beans, fish, and low in fat, high in fibre is can­cer protective.