When it comes to eat­ing healthy, los­ing weight or main­tain­ing your cur­rent weight, you are more likely to be suc­cess­ful if you make small changes over time rather than chang­ing your entire diet all at once. The long term goal is to feel good, have more
energy, and reduce the risk of can­cer and dis­ease.  Here are a few sim­ple changes you can do to work towards a health­ier diet.
Start Your Day with a Good Breakfast
A nutri­tious break­fast gets you fuelled for the day and helps pre­vent you from bing­ing later in the day. Easy-to-prepare break­fasts include cold cereal with fruit and low-fat milk, whole-wheat toast with scram­bled eggs, yogurt with fruit, or por­ridge with raisins.
Eat Plenty of Whole Grains, Fruits & Vegetables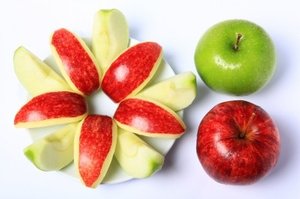 Try brown rice instead of white rice and whole wheat pasta instead of reg­u­lar pasta. Aim for five serv­ings of fruits and veg­eta­bles each day.  A cup of salad counts as one veg­etable, so try eat­ing a salad with either lunch or din­ner (choose low-calorie, low-fat or fat free dress­ing options).
Stay Hydrated Through­out Your Day
A reg­u­lar fluid intake from our daily diet is cru­cial to main­tain good health.  Even if your goal is to lose weight, los­ing it through dehy­dra­tion isn't the way to go. Your body needs flu­ids to func­tion and dehy­dra­tion leads to other health prob­lems. The aver­age per­son needs to drink about 2L (8 glasses) of water a day. Keep in mind if you drink cof­fee (or other heav­ily caf­feinated drinks such as Coca-Cola or Pepsi) you should add an extra glass of water for every glass you have.
Choose Lean Cuts of Meat and Poultry
For poul­try, the lean­est choice is white meat from skin­less breast of chicken or turkey. If choos­ing beef, look for sir­loin, ten­der­loin or round and if opt­ing for pork try ten­der­loin or loin chops.
Try Lower– Calorie/Fat Ver­sions of Your Favourite Foods
Don't assume that you have to give up your favourite food like mash pota­toes, when you're try­ing to eat health­ier or lose weight. As an alter­na­tive use lower-calorie ingre­di­ents or pre­pare it dif­fer­ently. For exam­ple, if your mash pota­toes use whole milk and but­ter try remak­ing it with skim milk and a reduced serv­ing of butter.
Watch Your Por­tion Sizes
Stan­dard por­tion sizes may actu­ally be smaller than you think. For exam­ple, one serv­ing size of pasta or rice is equal to one half-cup and four ounces of meat is about the size of a deck of cards.  Putting smaller amounts of food on your plate or using smaller plates is help­ful (the more food in front of you, the more likely you are to eat it because it's there).
Keep Healthy Snacks on Hand
It's impor­tant to make healthy snacks avail­able, espe­cially when you're at work, have a busy sched­ule or exer­cis­ing. Keep­ing healthy snacks, such as fruits, veg­gies, gra­nola, or low-fat yogurt, on hand will pre­vent you from head­ing to the vend­ing machine or fast food restau­rant for an unhealthy snack.